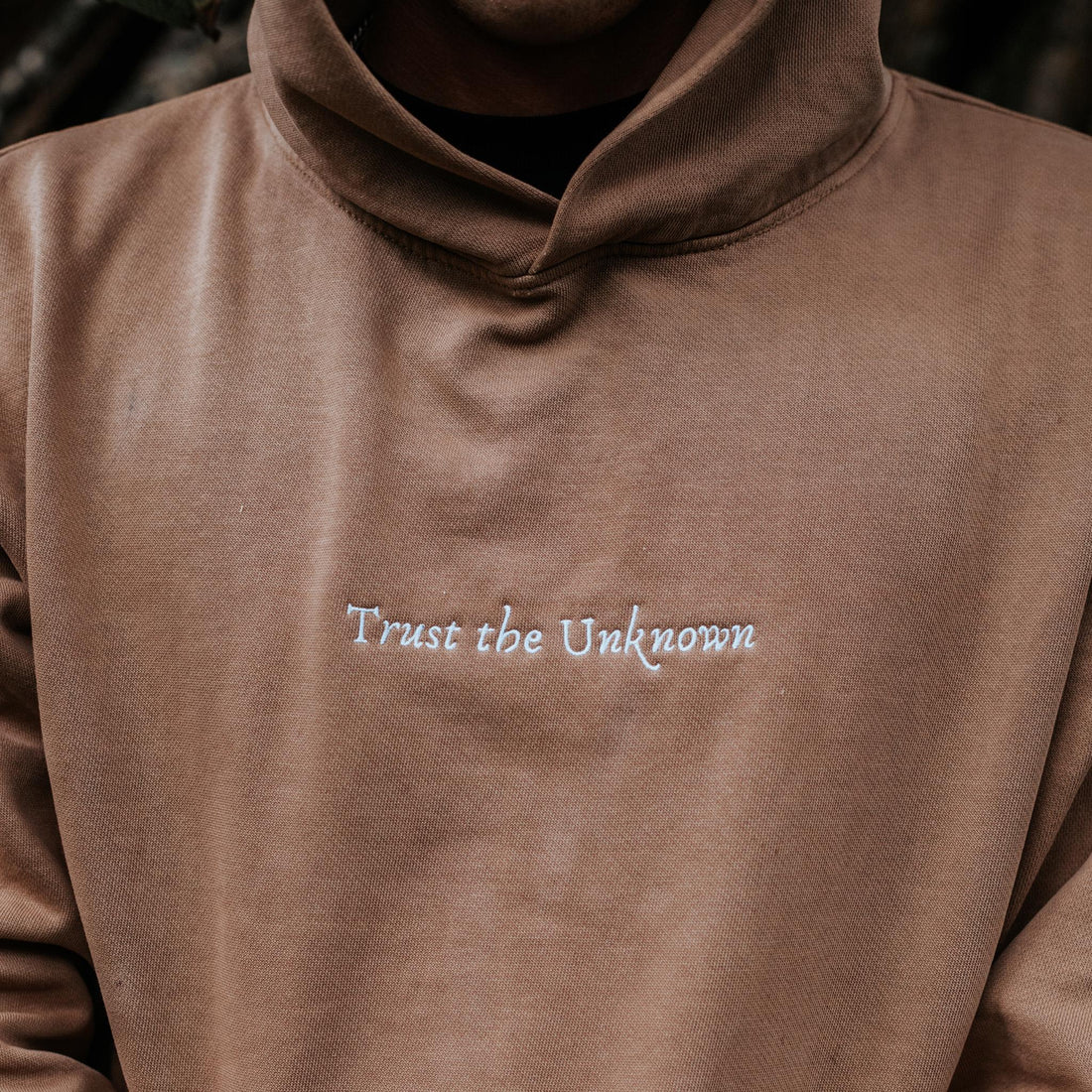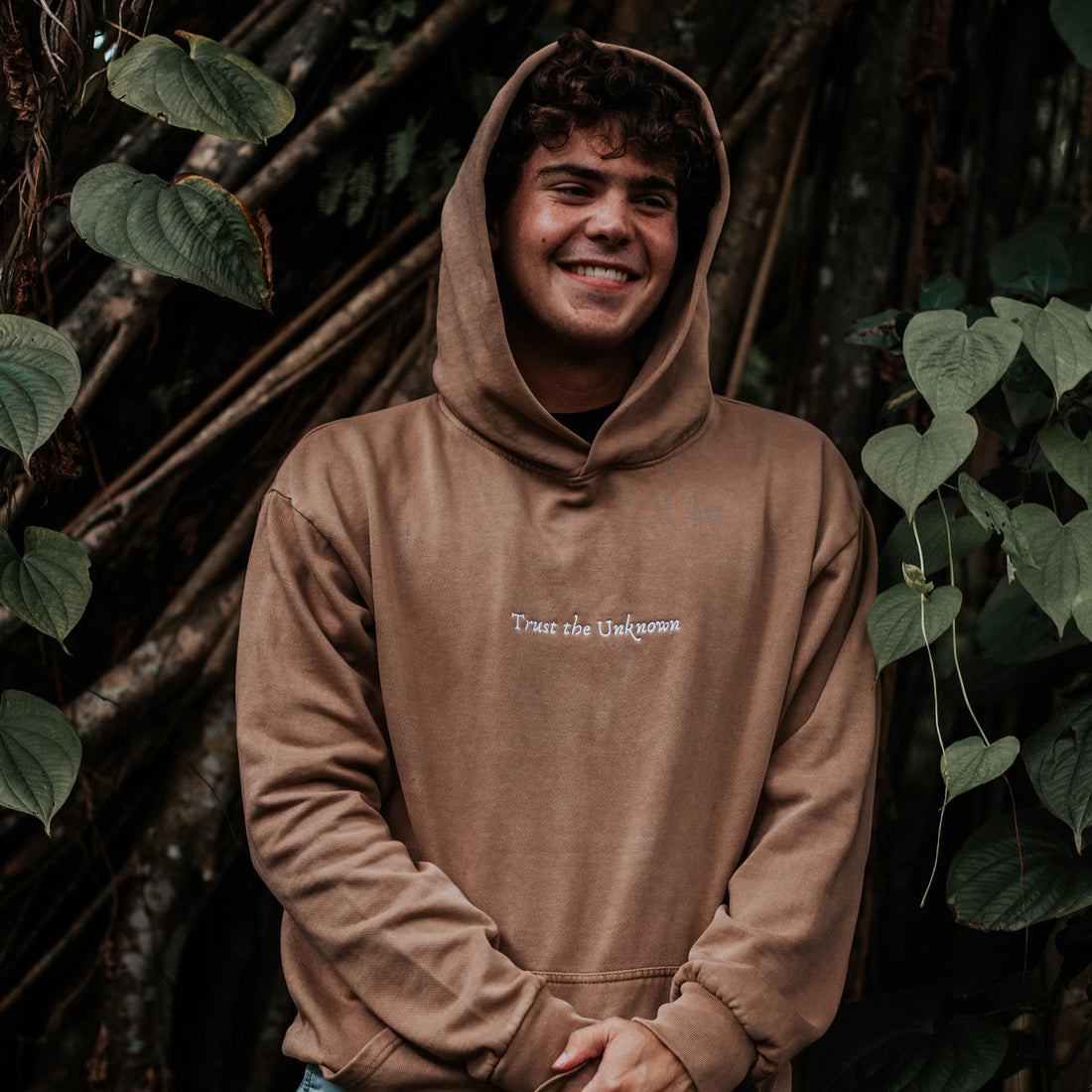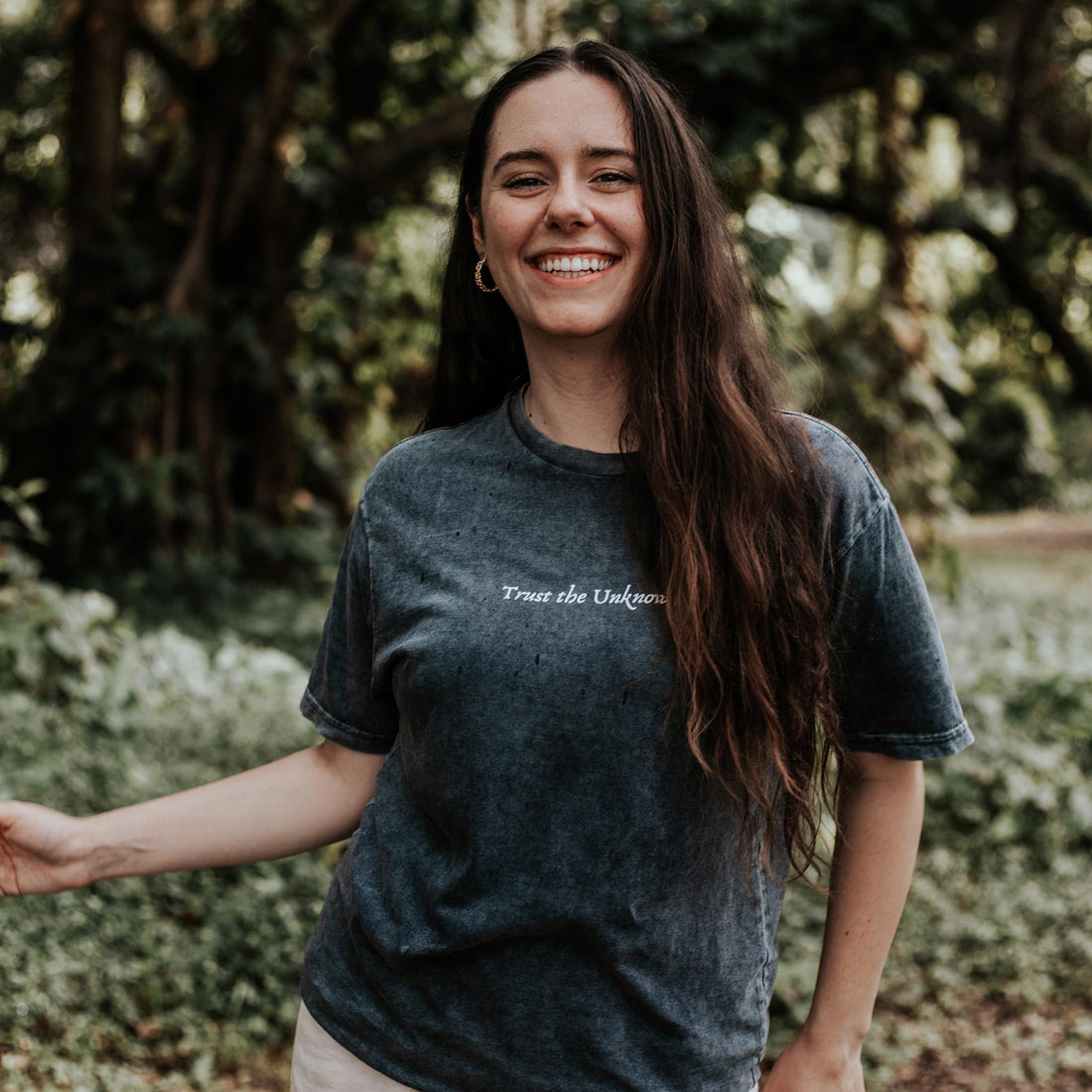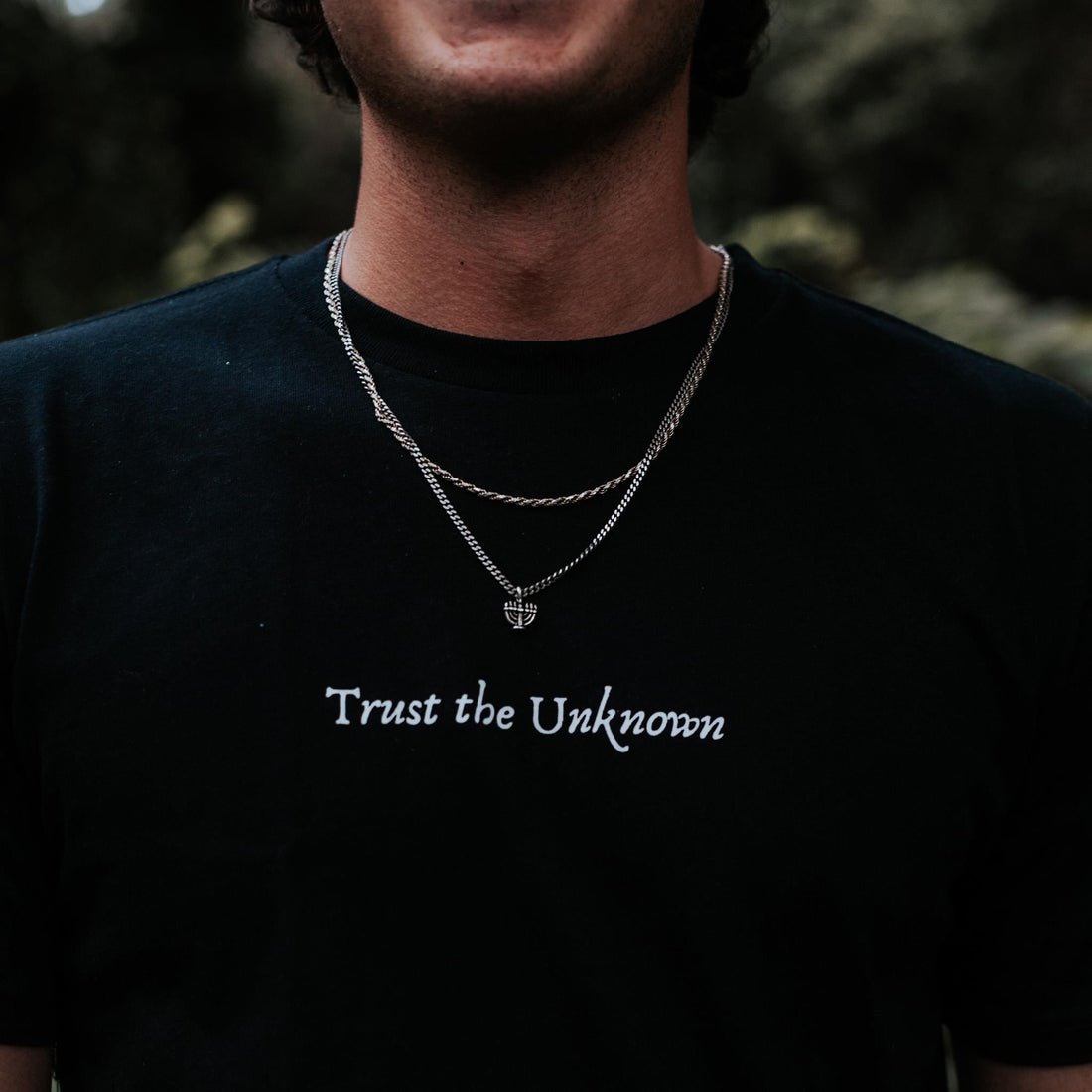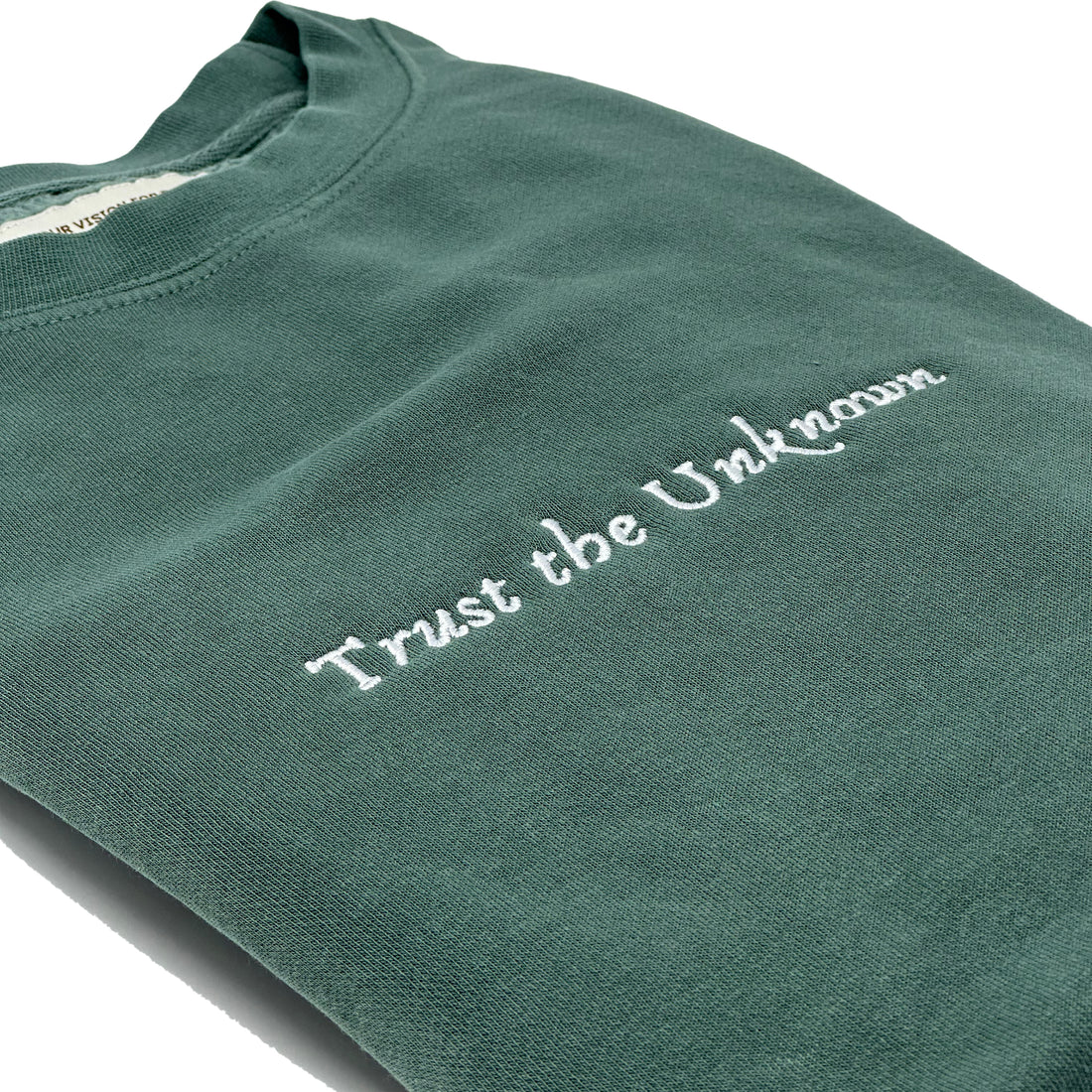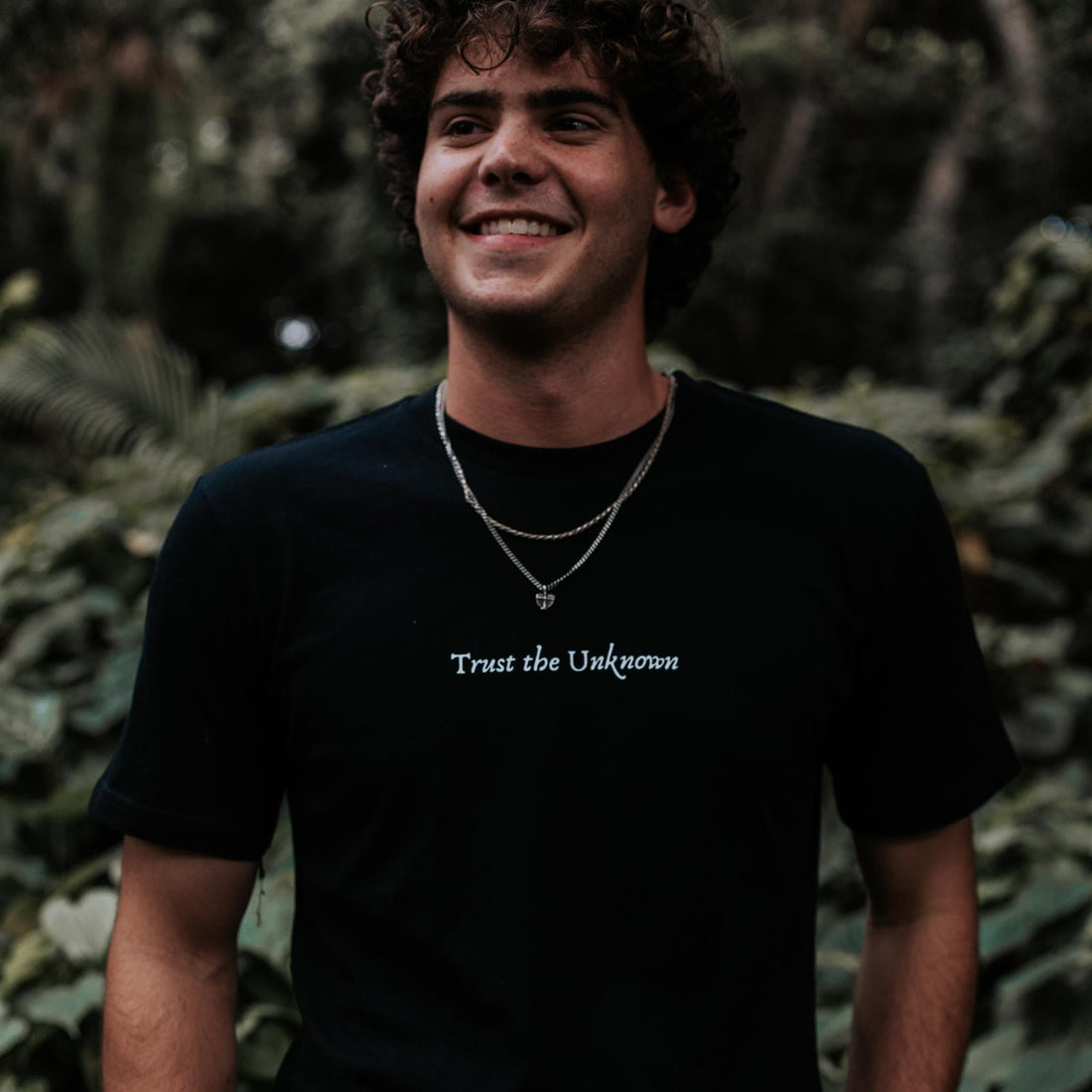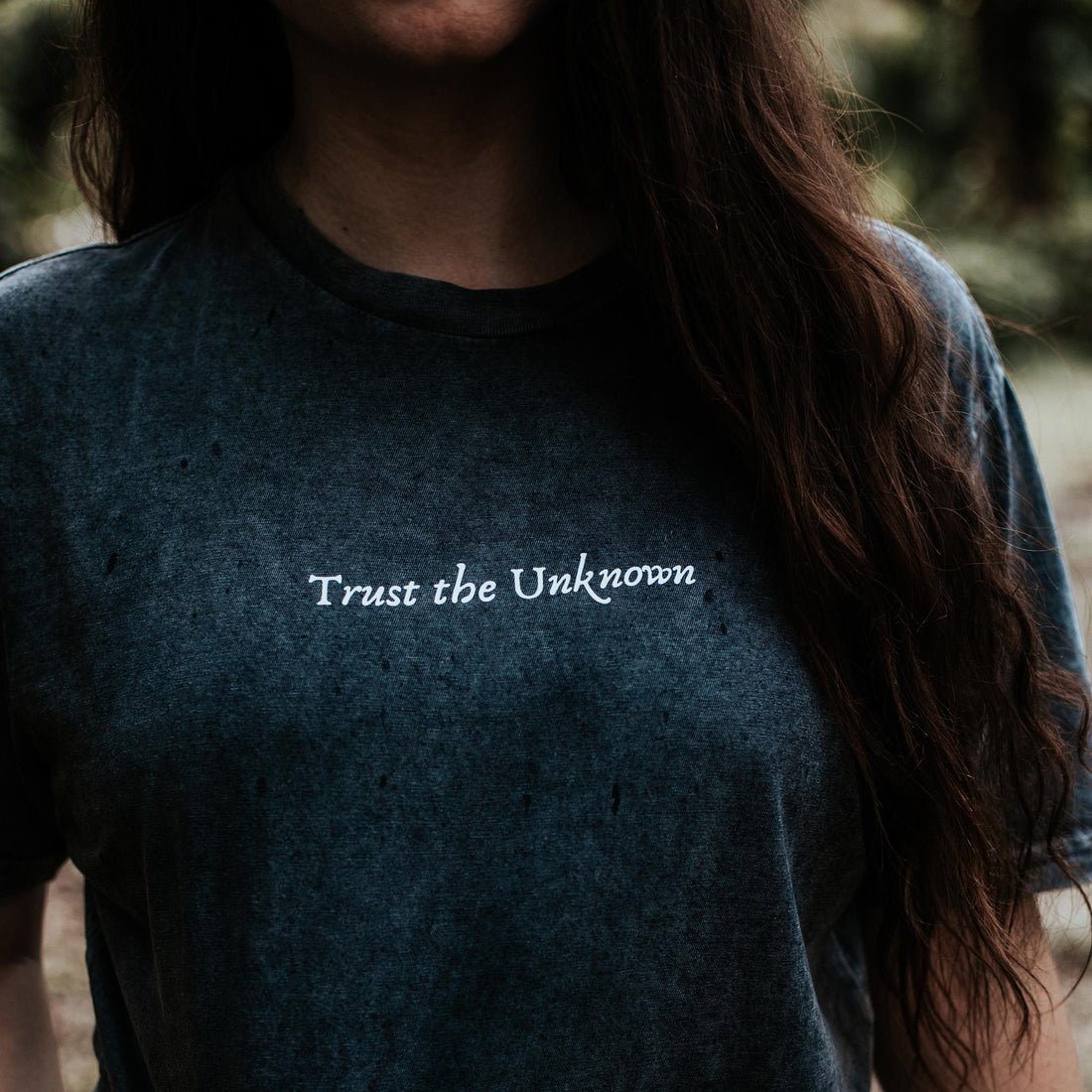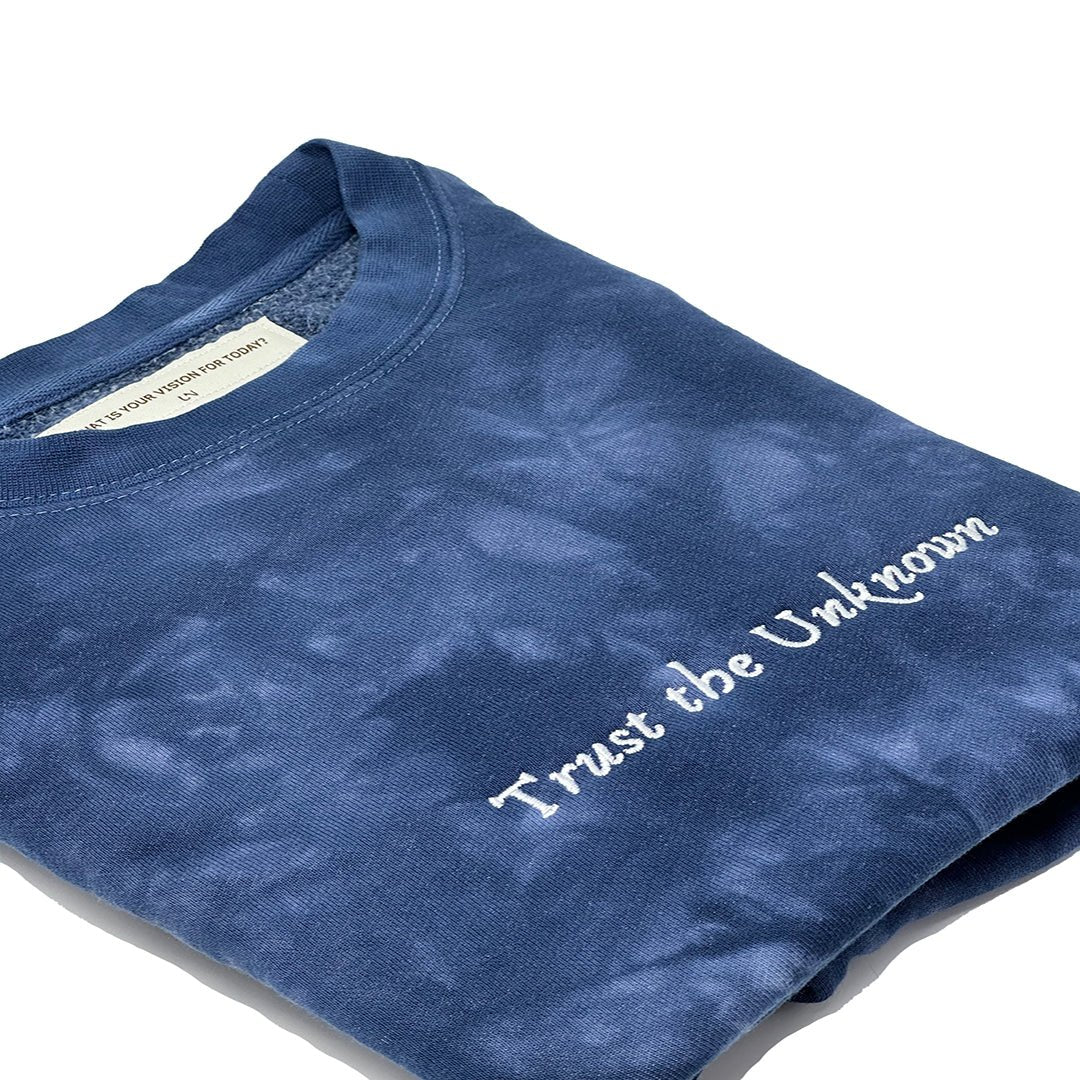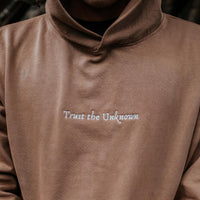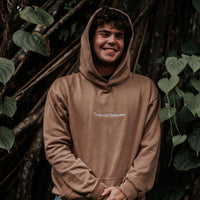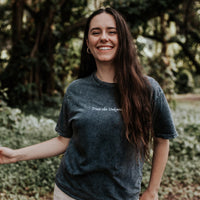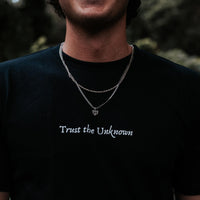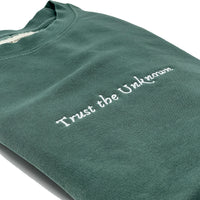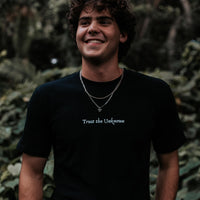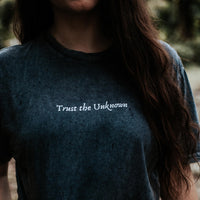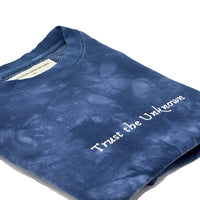 "Trust the Unknown" is a powerful reminder that growth and change require stepping outside of your comfort zone. Inspired by the teachings of Dr. Joe Dispenza, this piece encourages you to take a leap of faith and trust the journey ahead. Wear it with courage and embrace the possibilities that come with taking bold action.

MADE TO ORDER
Our hoodie has an Oversized fit heavyweight, pigment dyed and no drawcords. 
Our sweatshirt is a standard fit and vintage/washed and worn look. It looks like your staple sweatshirt from years ago.
Our shirts are pre-shrunk during the garment dye and wash processes for almost no shrinkage at home
Wash Cold 
Wash with like colors
What Trusting the Unknown means to Gigi and Jay
"Our relationship was built on the foundation of trusting the unknown. We met by chance, even though we live on opposite sides of the country, at an event for over 10,000 people. As fate would have it, we ended up getting assigned to a small team of around 15 members and were able to connect on a deep level because of it. Throughout the years we stayed in touch, always talking about our love for personal growth and spirituality. As we continued to grow closer, the universe began to play a hand in creating our relationship. We even ended up meeting at a sold out spiritual event and managed to get us both tickets and a free stay at the resort. Giving into the flow of life is what deepened our bond and we carry this message in the love we share together."
Cutest sweatshirt I own!!
Absolutely love this sweatshirt, the print is cute, the color is beautiful, and I cannot express how much I love wearing it!
Great Quality
I love the hoodie I bought. It so comfy and stylish!
Meeting Myself in Love with a T-shirt
I just love the two t-shirts I've bought, they're everything from comfortable to inspiring, and transmits a deep message. The material in which is made shows how much effort has been put into the customer's satisfaction and fulfillment. And the message, don't get me started! It just connects with me so deeply and makes me want to keep going with a great level of inspiration, and want to trust the unknown a little more each time. I couldn't write any complaints even if I wanted to search for one, it's amazing how wearing a t-shirt can make your day, and help you remember more of who we truly are. This t-shirts can be used for anything, not to mention how good they look on people. Would recommend it to ANYONE.
EMBODYING and TRUSTING the unknown with this t-shirt!
This shirt is so soft, super high quality, and best of all has an extremely powerful message on it. I really love the values of unlocked movement and how they're seeking to spread love and awareness with their clothing. Own 2 of their shirts and would buy 20 more!
Being Accountable for me
My relationship with the unknown has been a little rocky in previous years I would say. Mostly based out of fear of not being in control of the "unknown" factor. My unconscious belief systems have been known to paralyze my emotional state anytime the unknown would present itself in my life path due to past trauma that I had unconsciously aligned with.
As I started my journey of healing within, I have recognized that as I raise my energy levels and invite spontaneity in my life the unknown has shown itself to unfold in my experience with a loving passion and supportive energy unlike any other. Allowing me a safe environment to be unguarded and to change my internal definitions of what my experience with the unknown is. As I have crossed paths with the Unlocked Movement brand, I felt as if I was intertwining myself with a brand that holds me accountable to this internal movement into the unknown. The love, care, comfort and quality that is within this brand is unmatched. On days where I may fall unconscious to my energy levels and may forget my purpose, this brand continues to hold me and others accountable to my goal of trusting in every present moment. Just three words, packed with so much power, inspiration, and purpose. "Trust the Unknown". I have ran into quite a bit of people when I am out who come up to me and share with me "I love your sweatshirt, I needed to see that". Which inspires me to continue to wear my warm garment made with love every week as a pathway to hold myself accountable to those three powerful words. But also to remind those that come within my proximity that trusting is a choice and in each moment you are choosing to either partner with the Unknown or work against it. I am forever grateful to the Unlocked Movement brand and every soul whom is apart of the Unlocked Movement Family for holding me accountable through love to continue to choose love and trust in each moment of my life experience. I will continue to grow within this movement, as I know that by walking in faith and love I am leading by example with a simple reminder on my shirt as a gentle invitation for anyone whom wants to walk this journey of trusting in the unknown with me.
_____
High Quality Sweatshirt down to the stitching, Very Durable.
Warm & Loving Packaging.
Very Responsive CSR.
Immaculate Design.
Would Recommend EVERY SINGLE TIME!!!